Intro
Scratch Tile Slider Game Tutorial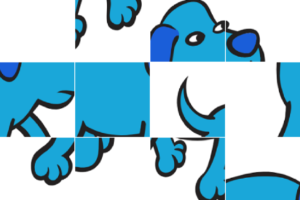 In this tutorial you will learn how to create your own slider game  just like the game that I used to play as a child, before my parents bought a Nintendo SNES and I could play real games!
Slide the jumbled up pieces around until you have a complete image.
Demo
Demo Project
Have a go at this picture slider game that I made using Scratch.
Tutorial Video
Start
Tile Clicked
Tile Extras
Purple Dot
Win Sprite