Magnetic Storage
Magnetic Storage Devices
Magnetic-Storage-Devices-Revision-Sheet
These are the oldest of the commonly used storage devices, but are still the most widely used.
Magnetic Hard Drives are used to store data and programs on desktops and laptops
Magnetic tape drives are usually used for large server / systems backups.
Advantages
Cheap Storage per MB (especially tape drives!)
Relatively quick read / write speeds.
Disadvantages
Easily broken if dropped
Slow read /write compared to new SSD drives.
High energy uses as it uses moving parts (lower battery life on laptops)
Further Watching  – How do Magnetic Stripe Cards work?
Optical Storage
Optical Storage Devices
Optical-Storage-Devices-Revision-Sheet
Optical Storages used to be incredibly popular up until the last couple of years where cloud storage and the rise of video and game streaming services have massively reduced their popularity.
Types of optical storage devices:
CD Drives  (700MB)
DVD Drives  (4.7GB)
BluRay Drives (50GB)
Optical storage devices offer cheap and portable high capacity secondary storage. Far more portable than an internal hard-drive, which makes them good for small / medium size backups and great for sending through the post.
How they work
Optical storage devices work by firing a laser at the surface of a spinning disk. The disc is covered in a pattern of pits in the CD surface. As the laser hits the pits it is reflected and the pattern of pits it detected by a laser detector.
Solid State Storage
Solid State Storage Devices
Solid-State-Devices-Revision-Sheet
Solid state devices are the newest form of storage to emerge. The technology is used in Hard Drives, SD Cards and USB sticks. Solid state storage devices work by storing data in flash chips electronically. They are still more expensive than traditional storage devices but the price per GB is falling all the time.
Advantages
Very fast read / write speeds.
Shock resistant as there are no moving parts to break if knocked
No moving parts so longer battery life ( great for laptops / tablets / smartphones)
Disadvantages
More expensive per GB of storage
Limited life span, as each flash cell can only be written to a limited number of times.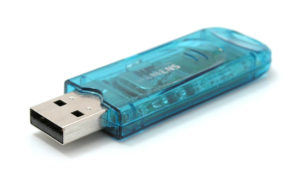 Characteristics
Common Storage Device Comparisons
| | | | | | | |
| --- | --- | --- | --- | --- | --- | --- |
| Device Type | Capacity | Speed | Portability | Durability | Reliability | Cost |
| Magnetic Hard Drive HDD | High Capacity(2TB +) | Relatively Slow Read / Write Speeds | Not very portable and quite heavy | Long life span, but susceptible to damage / data corruption if dropped | Very Reliable | Cheapest form of main secondary storage |
| Solid State Hard Drive | Medium Capacity <1TB | Exceptionally fast read / write speeds | More portable than HDD but not as portable as other types, as usually inside the pc | No moving parts, so very durable | Quite reliable, up to 5 years. | Twice the price of HDD Drives |
| SD Card | Low / Medium Capacity <256GB | Very fast read / write, as flash memory | Extremely portable | Won't be damaged if dropped, but easy to lose and susceptible to water damage | Not very reliable, prone to stop working over time | Quite high cost per GB |
| Pen Drive | Low / Medium Capacity <256GB | Very fast read / write, as flash memory | Extremely portable | Won't be damaged if dropped, but easy to lose and susceptible to water damage | Not very reliable, prone to stop working over time | Quite high cost per GB |
| CD (Optical Drive) | Low Capacity 700MB | Very Slow Read / Write speed | quite portable, cheap to mail, will work in many devices (PCs, Music Players, Car stereos) | Easy to scratch and data loss easy | Not very reliable, prone to stop working over time | Very Low cost per unit(10p) |
| DVD | Low Capacity 4.7GB | Quite Slow Read / Write Speed | quite portable, cheap to mail | Easy to scratch and data loss easy | Not very reliable, prone to stop working over time | Very Low cost per unit (10p) |
| Blu-ray | Medium Capacity 50GB+ | Medium Read write speed | quite portable, cheap to mail | Easy to scratch and data loss easy | Not very reliable, prone to stop working over time | Very Low cost per unitl (10p) |
| Magnetic Tape Drive | Massive Capacity | Very Slow Read / Write speed. Sequential read / write only | quite portable, cheap to mail | Generally long lasting | Medium reliability over time | Very, very low cost per TB |
| Cloud Storage | Effectively infinite storage | Depends on internet speed, but quite slow | Can access anywhere there is access to internet | Very durable, due to backups and offsite storage. | As reliable as internet connection. | Cheap per GB, but may require monthly subscription |
Resources