Microbit truth or dare game tutorial
In this project we will be making a truth or dare game using a Microbit and a continuous servo. The game is an extension of the on-board version found on the official Microbit site. The project was designed to give non-coders the ability to make an exciting project where they could both improve their coding skills and express themselves through creative designs.
Demo Video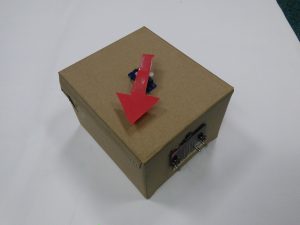 You will need:
A BBC Microbit
Microbit Battery Pack
2 AA Batteries
A small empty cardboard  box
A cardboard or plastic arrow
Selotape
Scissors
Screwdriver
Step 1 - Prepare the servo
Step 1 – Strip the ends of the Servo wires and attach them to the banana crocodile clips.
Connect your servo to the Microbit and run some test code to make sure it works.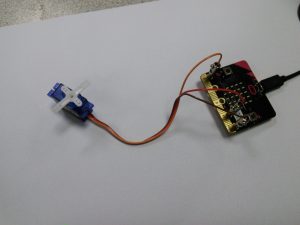 Brown / Black – Ground GND
Red – 3V
Orange – Pin 0
Step 3 - Attach the servo
Create holes and add your spinner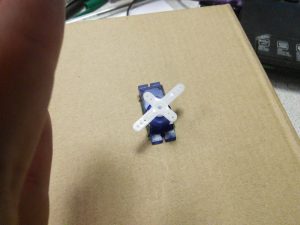 Step 4 - attach the Microbit
Cut holes and add your Microbit
Step 5 - attach the spinner
Step 6 - Wire up your Microbit
The spinning arm could move in random directions or speed up / slow down over time.
Instead of just displaying Truth/Dare your program to give the user a specific dare to do / truth to tell from a list of truths/dares.
You could add a speaker / buzzer to the project and include sound effects.