Microbit truth or dare game tutorial
In this project we will be making a truth or dare game using a Microbit and a continuous servo. The game is an extension of the on-board version found on the official Microbit site. The project was designed to give non-coders the ability to make an exciting project where they could both improve their coding skills and express themselves through creative designs.
Demo Video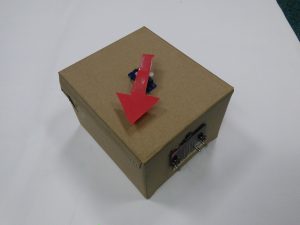 You will need:
A BBC Microbit
Microbit Battery Pack
2 AA Batteries
A small empty cardboard  box
A cardboard or plastic arrow
Selotape
Scissors
Screwdriver
Step 1 - Prepare the servo
Step 2 - Test the servo
Step 3 - Attach the servo
Step 4 - attach the Microbit
Step 5 - attach the spinner
Step 6 - Wire up your Microbit
Microbit truth or dare game code
Microbit Code Kingdoms Javascript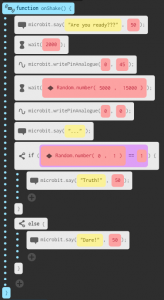 The spinning arm could move in random directions or speed up / slow down over time.
Instead of just displaying Truth/Dare your program to give the user a specific dare to do / truth to tell from a list of truths/dares.
You could add a speaker / buzzer to the project and include sound effects.